Paintball is an extreme sport, and paintballers are exposed to a lot of risks, especially if they play in the woods with uneven terrain and trees. Protective gear especially elbow and knee pads are an essential piece of gear.
The high quality elbow and knee pads will protect your knees from injuries but also prevent knee pain, allowing you to play paintball without fear of injury. But here you need to understand which material would be best in your knee pads or what size might suit your body type and shape. Alongside size and material you must be conscious of the flexibility and comfort of the chosen pair of pads. All these knee pad features combine to make a best paintball pad for players.
If you're an experienced player and have used many brands before, then it might not be a big deal to choose the best knee pads. However, if you are a beginner or want to play more often, then it is crucial to invest in good-quality pads.
Here I'll share a detailed user guide for buying top rated knee pads for paintball. I'll also share my detailed knee pad reviews in order to simplify your purchasing decisions.
List Of 5 Best Paintball Knee Pads
PREVIEW
PRODUCT
PRICE

Top Rated Knee Pads

Exalt Paintball FreeFlex Knee Pads

Features:
Lightweight and comfortable
Molded padding for optimal protection
Retention adjustable straps keep the pads from twisting or sliding

Check on AmazonCheck on Ansgear

Best For All

POWERLIX Knee Pads

Features:
Suitable for professional as well as medical use
Feature double layer silicon gel waves for optimal comfort

Check on AmazonCheck on Walmart

Best For beginners

OPLiY Tactical Knee Pads for Paintballs

Features:
Lightweight
Feature thin padding
Provides solid protection

Check on AmazonCheck on ebay

Champions Choice

Tactical Emerson Combat ARC Style Knee Pads

Features:
These are lightweight and durable
Well constructed that fit all sizes

Check on AmazonCheck on ebay

Personal Favorite

Bunker Kings V2 Royal Guard Knee Pads

Features:
Comfortable design
Flexible material does not restricted knee movement

Check on AmazonCheck on Virtuepb
Detailed Buyer Guide
Paintball knee pads come in a variety of styles and materials. Choosing the best paintball knee pads for you can be overwhelming, but I am here to help! I'll walk you through all the important factors to consider when buying knee pads for paintball, so you can make an informed buying decision.
Knee Pads for Paintball: What to Look For?
There are many things to consider when choosing a pair of paintball knee pads. Here are some of the most important ones:
Material – The material used in making the knee pads will affect their durability and comfort while playing paintball. Knee pads come in many different materials, including neoprene, nylon, and plastic. Neoprene is more comfortable and flexible than nylon or plastic, but it's also less durable. Plastic has the highest durability rating out of all three materials. Nylon is a good middle ground between neoprene and plastic.
Fit – A tight-fitting pair of knee pads will protect your knees better than loose-fitting ones. Make sure that your knee pads fit well before buying them so that they don't move around while playing paintball. You must carefully consult the size chart of your knee pad brand.
Protection – The most important factor that should determine whether you buy certain paintball knee pads or not is protection. You must ensure that the knee pad covers all the areas where it might be hit by paintball pellets during play. These include the front and back sides of the kneecap and upper thigh area up to the middle of your calf muscle. In addition to this, there should be enough cushioning provided by the padding so that it doesn't hurt when hit by paintballs repeatedly over time while playing.
Size – Knee pads come in different shapes and sizes, so make sure that you get one that fits correctly before purchasing it so that it won't move around when you run or jump during games.
Comfort – Comfort is also an important aspect because if you don't feel comfortable wearing something then there's no point in buying it.
Similarly you can choose a pair of the best elbow pads for paintball by considering all above factors.
Which material should be chosen for Knee Pads?
The material used to make paintball knee pads varies depending on its purpose and price range. For instance, if you want something that can be worn during long hours of play, then it's advisable that you go for a fabric material like cotton or nylon since they absorb sweat easily when playing paintball in hot weather conditions or when playing during the summer season when it is hot outside. On the other hand, if you don't care about comfort then synthetic materials such as rubber, plastic, or even silicone may be an option for you as they offer more protection against injuries than fabrics do but may be uncomfortable and stiffer than fabrics which often provide more cushioning effect when playing.Conclusively the comfortable grip, decent fire rate, impressing firing range, and high accuracy, all are combined to make the Tippmann A-5 a perfect gun.
5 Top Rated Knee Pads for paintball
I understand that elbow and knee pads are one of the most important protective gear for paintball players. They can help prevent injuries and improve your performance during the game. However, it is important to choose the right knee pads for your needs because not all knee pads are made equal.
Knee pads come in different shapes and sizes, so you need to find one that fits well and provides maximum coverage. You also need to consider other factors like durability, comfort, and breathability when buying a pair of knee pads. Here I have reviewed top 5 high quality knee pads for the paintballers.
1. Exalt Paintball FreeFlex Knee Pads
Top Rated Knee Pads
Material: Memory Foam
Closure Type: Hook and Loop
Size: Small to Extra large
Exalt freeflex paintball knee pads are in the market since Feb, 2018. These provide a soft thick cushioning to the front and back of the knee. These are comfortable and flexible knee pads that offer enough protection for an outdoor game.;
Exalt Freeflex knee pads are a little different from traditional knee pads as these do not have any top straps. Instead, they slid down on the thigh and have an entirely removable pass through retention band that keeps it from twisting or sliding.
The pads are heavy duty and offer solid protection and are well-made. These knee pads allow full movements and are flexible enough for a comfortable fit. These pads have an amazing feeling that I almost forgot I was wearing them.
I found padding on the pads amazing and suitable for any kind of play or game format. I guess I would comfortably wear these knee pads for any paintball game. I especially liked the elastic strap at the bottom which moves around to the front so it won't come apart.
The only issue was with the back of the pad which is slightly thicker than traditional tactical knee pads from Emerson and many other brands. Very dense knee back padding feels uncomfortable initially.
Pros
Flexible and comfortable
Value for money
High-Quality pads
Cons
Slightly thicker back of the pad
Expert Review
I recommend these paintball knee pads to anyone who is looking for a product well worth the money. These pads are great and offer enough protection without restricting movements.
2. POWERLIX Knee Pads
Best For All
Material: Neoprene
Closure Type: Compression Sleeves
Size: XXL
This variant of Powerlix knee pads was launched back in June, 2021. Since then these are very popular for their utmost comfort and durable neoprene construction. These are generally made bigger so won't suit petite players. nbsp;
These compression pads are soft unlike McDavid Hex knee pads that are a bit hard. These knee pads don't restrict knee movement at all. I was surprised when I wore them for a six hour game and did not feel any leg pain. These can also be used outside the paintball field in case of any knee pain or strain.
These pads are perfect for sweat absorbents too unlike other soft compression sleeves which feel itchy after a few hours. Neoprene material feels comfortable and stays put on.
Their sizing is a bit different so I recommend consulting the size chart and choosing accordingly.
Pros
Perfect Fit
Perfect sweat absorption
Inexpensive
Cons
Non-adjustable for petite player
Expert Review
I found these compression knee pads soft and flexible. These provide good support to knees and feel snug. Anyone with standard sizes knee and leg measurements can buy these surely.
3. OPLiY Tactical Knee Pads for Paintballs
Best For beginners
Material: A mix of Nylon, Foam, Polyurethane
Closure Type: Hook and Loop
Size: One Size
This is an economic package of beginner level elbow and knee pads for paintball. Opliy is selling these pads since April, 2022. These are durable pads available in standard size that fits all.
These are other low profile knee pads on my hunt for the best knee pads for paintball. I ordered this pair as a good, expensive pair of tactical knee pads and got them well packed and on time. But to my surprise, they looked cheap or low quality unlike the photos present on the listing.
I put them on and checked their flexibility. They felt very comfortable on my knees and provided good support too. They have a good feel and are lightweight.
Unlike other expensive brands and labels, these globes are well worth the purchase as they give good protection and come with a free pair of elbow pads.
The pads are in standard size but come with straps that can be adjusted to fit any size from small to extra large. So you don't have to worry about measuring your exact sizes or consulting their size charts.
Pros
Gives good protection
Inexpensive
Comes with a pair of elbow pads
Expert Review
I recommend these pads to new players who want every piece of paintball gear without breaking the bank. These come with a pair of paintball elbow pads and that too at a reasonable price.
4. Tactical Emerson Combat ARC Style Knee Pads
Champions Choice
Material: Rubber
Closure Type: Buckles
Size: Free Size
Emerson Tactical knee pads are Amazon's choice for combat sports pad. These are made out of rubber thus lightweight and durable. Its buckle closure type fits all sizes.
Emerson Combat knee pads were recommended by a few of my personal friends and fellow players. These Knee Pads are my favorite when it comes to proper coverage and lightweight protective gear. The pads were extremely lightweight. The knee padding is thinner, unlike Exalt Freeflex knee pads which have thicker padding at the front and back.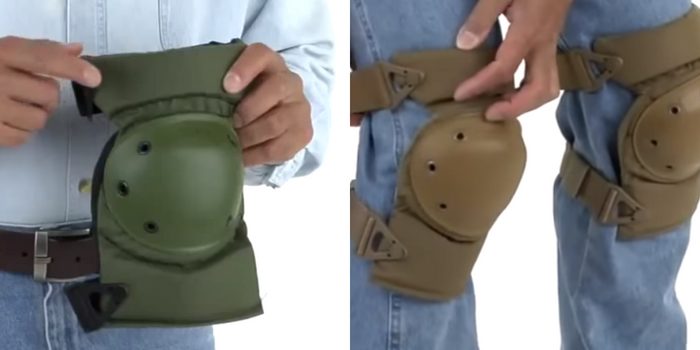 One more thing I want to mention in my review is the importance of Mercer fitting while wearing these. If you won't buckle them up properly, they can restrict your movements and can feel uncomfortable. The pads are basically very stiff and are hard to use properly.
The only issue is with their shape as they don't stay put in one place. When you move rapidly, they will have to readjust in their place. Which feels uncomfortable and irritable sometimes.
Pros
Durable
Lightweight
Easy Buckle fit
Expert Review
These are way more durable and strong than any other brand of the same level. These pads are suitable for woodball and certain scenario games.
5. Bunker Kings V2 Royal Guard Knee Pads
Personal Favorite
Material: Foam, neoprene
Closure Type: Pull On
Size: Medium – 2XL
These Royal Guard knee pads by BunkerKing are available since April, 2022. These are slim fit and can be worn under paintball pants. These and comfortable and provide a nice feel superior to many top brands of the same category.
Are you looking for a tight fit neoprene knee pads with dense foam padding? End your search here with Bunkerkings' Royal guard knee pads.
These are nice pullover pads that come in a snug-fit design. I recommend buying a size up from your normal size (I guess it would be mandatory for any thick padded knee pad.) It is best to wear them over jeans or pants, as these fit well over skinny jeans.
They give a lot of flexibility that other pads just don't have. I dig my knees hard into the ground and I haven't felt any pain from doing so. Overall these are great pairs of pads for woodsball and overall use
Pros
Stay put and don't slip
Feel good at the back of my legs too
Comfortable
Cons
Not suitable for female players
Expert Review
I recommend this pair of knee pads to anyone who loves woodsball or is more into outdoor scenario games.
Final Recommendation:
There are numerous brands offering high-quality knee pads for paintball players and my above list includes all great choices in each category. Plus I have listed detailed pros and cons of the product along with my personal experience for your help. But still, if you feel confused or have any doubts about making one final decision then I'll go the extra mile and list my approved and tested knee pads here.
👉 Top Rated Knee Pads for beginners:
OPLiY Tactical Paintball Knee Pads are a go-to choice for beginners on my list. I always recommend these to new players for being affordable and flexible.
👉 All Level Suitable:
POWERLIX Knee Pads are the best bet for all levels of players. These are inexpensive, soft compression sleeves for use in every kind of weather condition.
👉 Editor's Choice:
Bunker Kings V2 Royal Guard Knee Pads are my personal favorites for a variety of reasons. These knee pads feel good and are comfortable for a full day of paintball.
You can either go for any of these three or something other than those on the above list, they are all functional and provides enough protection and if you still have any queries related to paintball protective gear or game rules, feel free to reach out at the given contact addresses.