The paintball mask is a critical piece of safety gear when you're playing the sport of paintball. It's important to keep your mask looking good and in good shape to ensure that you don't get hurt while playing. Paintball masks come in a lot of different colors and designs, but if you want something unique, there are options for that. You can paint a paintball mask or customize it.
You can paint or dye a paintball mask to be any color or design that you want. I have some tips on how to paint or customize a paintball mask properly so that it still does its job.
A step by step Guide on How to Paint a Paintball Mask
If you really want to be creative and look distinctive in your field, I have put together this guide on how to paint a paintball mask. Follow these steps to give a unique look to your paintball mask.
Step 1: Disassemble your Paintball Mask
Take your Paintball mask.
Remove the strap, visor, and any earpieces.
Take off the lens on the mask as your lens might be ruined if you forget to remove it before painting.
Step 2: Prepare tools and yourself for the job
Prepare all your tools, paint, brushes, etc.
Put on some old clothes because it could be messy.
Choose a place where you can do the job without any disturbance.
Step 3: Clean the Mask Properly
Clean off the mask with alcohol or water.
Clean all the parts of your mask with a cloth, alcohol prep pad, or isopropyl alcohol.
Take your time to do this and make sure every part of your mask is clean.
Some masks like the Dye i4 for example have small vents that need to be cleaned as well.
Step 4: Remove any Scratches or old paint on the goggle
Use rough sandpaper to remove any old paint or decals on the mask.
Wash the mask with soap and warm water, then dry it off.
Tape off any areas you don't wish to be painted.
Step 5: Apply any base color of your choice
Choose a base color for your mask.
If you want your base color to be white – paint the parts of your mask that you want to be white first, let dry.
Step 6: Prepare any design of your choice that you want to draw on your mask
If you are going to use stickers/decals on your mask – place them now before painting the rest of the mask. It is much easier than trying to stick them on after painting and it will look much better when it is done.
If you don't want to use stickers, you can also draw your own custom design/symbol or shape for your mask.
To apply the design for your paintball mask you will need a sheet of paper and either a pencil or a pen.
If you are not an artist, simply free-hand draw something easy.  It's best to start simple and work your way up from there once you get used to working with spray paints on your particular type of mask.
You can also print out something from the computer if you want something more complex.
Step 7: Prepare your Mask for the final Coats
Spray on your base layer of paint, and let it dry.
Spray on at least 1 more coat of paint, letting each coat dry before spraying on the next one.
Apply one more coat or two of clear spray paint once everything is put together, and let dry.
Step 8: Do the final finishing
Remove any tapes you applied earlier for designing.
Put together all parts of the mask.
And then reassemble the lens of the mask.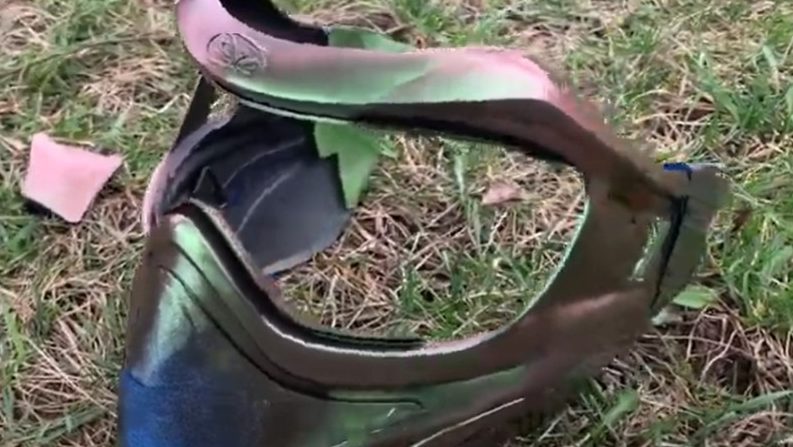 Enjoy your new customized paintball mask!
Tips To Consider While Painting Your Paintball Goggle
Painting or customizing your paintball goggles can be a messy task. But by following the proper instructions and our step-by-step guide you can do the job flawlessly.
There are a few things you'll need to remember when painting your mask:
You're going to have to remove or tape off sensitive areas like the lens, strap, etc.
You're going to use the right kind of paint: either acrylic or enamel.
You're going to have to apply the paint carefully and evenly (use multiple thin coats).
You have to protect your mask from damage for a few days after painting it.
You would have to cover the vents properly. As these holes will not look good if you miss any of them.
You must disassemble and reassemble the mask carefully to avoid any damage to the parts.
Read more: How To Keep Paintball Mask From Fogging
What kind of paint do you use on a mask?
There are many choices in the market including acrylic or enamel paints. But acrylic paints are the favorite choice of pro players because of their sparkle and classy looks.
How many times can a paintball mask be done?
Well, the simple answer is the infinite number of times. You can paint your paintball mask every month or every two months till it wears out. Just make sure to remove or sand off previous layers of paint before each customization.
Is there any other way to customize my paintball mask than painting it?
The other popular way to customize your paintball mask is the use of accessories. You can use stickers, beads, or any other accessories to make your paintball goggles look unique.
Customizing or painting your paintball mask to make it look dramatic or spectacular is absolutely an amazing idea. The process is very easy to perform at home. You only need to make sure to take some precautions to avoid any mess.
I recommend that you paint your mask now and then to surprise your fellow players. After all, it's an entertaining and amazing DIY project.