Paintball is a popular sport where you could spend some time testing your tactical and strategic skills. Playing on a good paintball field with suitable weapons and gear will add more fun to the game and make it more exciting for everyone. Playing paintball at great paintball fields can be a whole new experience. Numerous arenas and fields have been set up for this purpose, including indoor and outdoor setups.
You need to find the best paintball fields in the USA for your needs. You can't play the game if you don't have the right kind of safety gear, correct clothing, and correct equipment available on site. Many different types of fields are available in the US but only a few are good enough for paintball games.
If you want to have more fun with your friends and enjoy playing some serious games then choosing a good field is necessary. Here in this article, I will help you choose the best field near you that suits your needs and has all the necessary equipment.
1- Paintball Explosion
Location: Paintball center, East Dundee, IL, United States
I visited this paintball center for some small Paintball club tournaments. This center is set up in a huge area and has one of the largest laser tag fields too. The staff and services were so great that I later visited the center with my private party. There were a total of 13 players and that was a memorable session of paintballing. The staff treated us so well that we felt welcomed and high in spirits. The field staff enforces their rules which is great to make it a fair & safe game. Degree directed us professionally for the whole game of around 3.75 hours.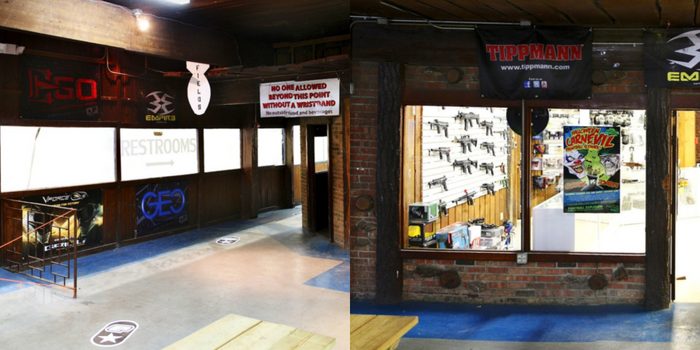 I was low on my stock of paintballs but thanks to the Pro Shop on the field where I was able to purchase my required balls in a large number. The shop also offers other services like rental equipment for private matches and safety gear.
The only major issue was with the field fee which is much higher than some other fields of the same level. Especially when we have to use our equipment (like paintballs).
Another major con is that this field is open on weekdays but closed on weekends. We were only available for weekends so could not visit that place again.
I personally found this field great for occasional private matches. The service and staff are friendly and helpful. They also enforce field rules for a good overall experience.
---
2- OSG Paintball
Location: Barnstead, New Hampshire, US
This is one of the largest paintball setups in New Hampshire. OSG has a dream paintball center where they have set up 12 different themed fields that are each amazing in their way. Almost every paintballer wants to visit and play in this center.
The list of those famous 12 paintball fields is given below.
Star Wars
Area 51
Empire Castle
Sherwood Forest
Pirate Cove
First Contact
Halo Village
Tombstone Western Town
The LZ
Urban Town
Hamburger Hill
James Woods
It was a great fascination for some of my new students. We especially traveled to this paintball center and viewed Halo Village, Star Wars, and Pirate Cove fields. I especially found Pirate cove field as my favorite. Playing paintball and tagging players on a huge navy ship was my dream and there I got to play my favorite sport in my favorite setup of a three-story huge ship.
It would be a great experience if you want to have a lively experience in any of the above million-buck setups. The field also has a fresh and high-quality food facility in the form of The Bunker, a field restaurant. It would be a great plus if you are planning on going for a full day of fun. They have a great space for parking and a variety of different game options.
I would definitely recommend this paintball center if you live in New England, Massachusetts, or anywhere around. They are a great option for small group matches and scenario games.
---
3- Hollywood Sports
Location: Somerset Blvd, Bellflower, California, USA
Hollywood sports is the largest outdoor field in CA, US. The field features Hollywood movie props like Supernova, The Haunting, and Godzilla. Hollywood sports park also has an airfield and low-impact paintball field for kids and junior players.
Due to its huge setup and running routine, movie stars and Hollywood celebrities are often seen there. Anyone interested in volleyball, airsoft, laser tag, or rock climbing can visit this sports park as they offer a variety of sports and services.
It has 8 top-notch paintball outdoor arenas including;
Apocalypse
Cajun Terror
Combat Center
Escape LA
Lunar Wars
Mad Max
Raccoon City
Zombieland
I would recommend visiting the Hollywood sports part at least once a year to spend a memorable day sporting in a great environment. Service and staff are great and friendly and stay there for you throughout.
---
4- Blitz Paintball
Location: Summit Blvd, Dacono, CO, US
Blitz paintball is another field I got a chance to visit on a trip with my family when we were on a summer vacation. It was recommended by a few of my friends in Colorado. The field is great for small groups and family paintballing sessions. Situated in a rocky mountain region, it provides a great environment for scenario games. There were many other families and private groups who chose this field for Birthday Parties, Bachelor and Bridal Parties, as well as team or company events. It seemed to be one of the widely visited fields in Colorado, US.
I was a bit skeptical about going there as we did not have enough equipment. But to my surprise, the field provided us with fresh and high-quality rental equipment. I got modern Tippmann FT-12 and BT-4 markers for even the busiest day.
The field setups are small and suitable for family celebrations but not suitable for tournament plays or larger groups.
I recommend this field as a great spot for birthday parties, family celebrations, and smaller groups. The locations and setup are great and provide a great experience.
---
5- Skirmish Paintball Fields
Location: Albrightsville, Pennsylvania, US
It was given the first position in the best paintball field in the northeast by many players. Skirmish is a great outdoor paintball facility with excellent service and staff. The field offers modern rental equipment and that too at competitive prices.
Referees and service are credible and they maintain their service standards. They have a professional photography service and your whole session would be photographed for a lasting memory. It is widely visited by local players and equally suitable for beginners and expert-level players. They have something for each level and for every player.
The field has various (over 50) detailed maps and is set up on a huge 750 acres of land. They also have a pro shop where players can buy discounted paintballs and other necessary equipment.
The only issue was with markers as they were probably too much used and jammed or stuck often during matches. I guess bringing your guns would be great for a smooth and consistent session of fun and enjoyment. But they don't allow bringing their paintballs, instead, they allow field paintballs only.
I found this field a perfect choice for individual players as well as groups. The field has a pro shop as well as a rental facility.
Conclusion
Playing paintball is quite fun and exciting, but if you have not played with other people on a good field then it would be disappointing. Playing on a poorly set-up one is not going to bring out your full potential. There are various paintball fields in every state of the US and you can find some information about them before selecting one.